Annual Sports Day 2022-23
On 21st December 2022 sport day was held. This year, honorable chief guest Dr. Qudsia Akram opened the cheerful event. Dr. Qudsia Akram was a talented student of CMTB in the batch of 2002 to 2004. She has done her Ph.D in International relations and now currently serving as assistant professor at Kinnaird College Lahore. The event started with recitation of Quran and naat. On this occasion, different games and colorful segments were presented for the entertainment of audience. It includes the march past, karate, gymnastics, aerobics, PT, Tambourine and performances on songs. Various sports competitions were held that day. In the end of the ceremony, cups and certificate were distributed among the winners. The chief guest delivered her speech. Ms. Abida presented shield to chief guest. It was a colorful and entertaining day.
15th Annual Swimming Gala 2022
The colourful ceremony of "15th Annual Swimming Gala" was held on 27 September 2022. Mrs Ulya Bilal were the Chief guest of this ceremony. Miss Asma Mansoor has organized and hosted the event. The water of our swimming was crystal clear and very clean; its shiny surface was increasing the festivity of the event. Mothers of participant swimmers were also invited on this event. All the children and their mothers were very happy and excited. A lot of swimming rounds were held and students from different classes have participated in those competitions. At the end of the ceremony, winners have got prizes and certificates.

Miss Marria president of the Society for Promoting Swimming Among Girls, encouraged the participants. She said that swimming pool in a school is a very expensive project to handle and this opportunity is always offered in schools with high fee structure; but we are offering this service in low fee scale. Swimming is a skill that is essential for every kid.

She said that the we feel very proud that our students have participated in inter-university swimming competition; and won a bronze medal. In this content the efforts of swimming instructor Miss Saima Waheed, are very appreciable and encouraging.

Mrs Ulya Bilal elaborated that she has got the swimming skills in the age of six years. At that time, swimming was not here in the school. She encouraged the students by saying that you should improve your swimming style.

She also appreciated the relay race and enjoyed it a lot. At the end of the ceremony the Principal Mrs Abida Arshad has presented the shield to Mrs. Ulya Bilal. Guests were served with juices. It was a very pleasant ceremony.
---
Annual Sports Day 2022
On the beautiful morning of 26th February 2022, annual sports day was held in the premises of Cambridge Madrasa tul Banat sports ground. Under the supervision of sports teachers Miss Fatima Munir and Miss Saima Khan, students were trained for the sports events Each and every student was ready to claim victory in the competition. Besides sports activities, gymnastics, tambourine drill, aerobics and of course song performances were also there.
Maam Talia was guest of honor and was received by Maam Rakshanda and Maam Abida. Then the event was officially started. The colorful performances and thrilling races, made the event memorable. Not only participants were enthusiastic but the audience also, everybody cheered for their team and class mates. The sportsmanship was seen not only once but many times. Participants fell and then rose again with a fighting spirit.
In the end, Maam Talia shared words, and encouraged and congratulated students for showing such a brilliant performances. She thanked the management for giving her chance to come back to her school, which was foundation for her success. Prizes were given to successful students and so this beautiful and memorable day came to an end. Few tears and lots of hope for the next year to win first place.
Squash Tournament 2022
Semi Final:On 16th February 2022, squash semi-final was held under the supervision of squash coach Mr. Jhanzeb Khan at CMTB squash court. In the semi-final students from junior and senior wing participated. The purpose was to encourage students to participate in extra-curricular activities. The students who participated were, Muhammad Ali 5C, Haseeb 5C, Anas 4B, Abdullah 4B, Rania 5A, Hadia 5A and Hareem 4B
Four students; Anas, Abdullah, Rania and Hareem made it all the way to finals of the main competition, where they had to play against each other.
Final Match:On 17th February 2022, squash final tournament was placed. Our chief guest Mr. & Mrs. Talha Waheed graced the event with their presence. Match was thrilling and exciting. Squash coach trained students for the finale. After tough competition, Hareem of 4B and Abdullah of 4B were finalists. The standard of squash was high, and our boys and girls competed fiercely giving a great account of themselves.
Inter Faculty Badminton Match 2022
| | | |
| --- | --- | --- |
| | On the beautiful morning of 12th February 2022, the first inter faculty badminton match was taken place between teachers of senior and junior wing. Miss Rabia Shaukat, Miss Sobia and Miss Nosheen were representing senior wing while Miss Sumaira, Miss Tahoor ul Sabah and Miss Tehreem were from junior. The match was witnessed by a large number of spectators comprising of both students and faculty, who enjoyed the competitions and supported their teams fervently. Match was very exciting, as both teams gave tough competition to each other. In the end, senior wing emerged as champion. Everyone enjoyed the event to the fullest. Such events bring colors to routine life of school. | |
| | | |
| | | |
---
Badminton Match 2022
| | | |
| --- | --- | --- |
| | On 27th January 2022, Badminton match was held in the vicinity of CMTB ground, between First year and Second year students. In this match, Sanila Shahid, Fatima Arshad and Sameeha Shehzad were representing First year while Nabiha Afzal, Laiba Khan and Amna Khan were from Second year class . As it was the first match after Covid-19 norms, so students were so excited. Theylightened up the event and gathered to support the contestants.After a very tough competition, Second year class celebrated the victory. The match was held under the supervision of sports teacher, Miss Fatima Munir. | |
| | | |
| | | |
---
14th Annual Swimming Gala 2021
On the beautiful morning of 30th September 2021, Headmistress Junior and senior Schools, and students welcomed the Madam Harika Khanum, who graced the event as Chief Guest.She is the daughter of Executive Director of AMTB Mr. Khubaib Khan.
In beginning, Tabloo was presented in which kashmiris children were shown, playing near Dal Lake. Indian terrorists gunned them down. Some children fell in water, who were saved by Pakistani Army. This tabloo was true depiction of suffering of kashmiris people and rescue exercise.
After that, swimming competition was started. Almost 54 Participants from class 1 to class 12th took part in a variety of events and showed their amazing talent in the form of different stokes such as freestyle, breaststroke, backstroke and underwater.
Miss Maria khan, daughter of president Anjuman Madrasa-tul-Banat, addressed the participants: Event was organized beautifully and was amazed to see enthusiasm of participants. Further she added that swimming is a good exercise which makes body and mind healthy and participating in such events enrich our physical and mental capabilities. Our will never let us fail. Our mind encourages us to excel and we achieve what we set for. It is a positive trait that emerges in us by participating in extracurricular activities.
Chief guest Ma'am Harika Khanum also praised the event and participants. She gave donation to Madrasa-tul-Banat on behalf of Fiaz Ahmed Faiz organization. She appreciated the efforts of swimming teacher Miss Saima Waheed Khan, who trained the students. Then she distributed the certificates and prizes among winners.
---
Annual Senior Sports Day 2020
| | | |
| --- | --- | --- |
| | As like previous years, the annual sports day of Cambridge Madrasa-tul-banat was being held gloriously, as always. The event took place on 23rd of January 2020, Thursday. The students, participants and spectators started arriving in ground, around 9:30am and by the time event started, the ground was filled with them. Chief guest Dr. Sidra, arrived at 10:30 and was received by Ma'am Rakhshanda and section heads. Flower bouquet was presented to her by the students. Event officially started with Talawat, recited by Laiba Khursheed of 9thB, and then Naat was recited by Mubashara of 7thA. National anthem was played and four houses of school marched past from the main stand. | |
| | | |
| | --- | |
| | | |
Annual Junior Sports Day 2020
The year of 2020 began for Cambridge Madrasa-tul-Banat on a high and colorful note. Annual Sports Gala of Junior Wing was being held on the 25

th

of January 2020. The ground was filled with colors all around and beautiful little toddlers were looking like little angels. On the arrival of chief guest Mam Ayesha, who is an old student of Cambridge Madrasa-tul-Banat, the function officially started. After the recitation of Quran-e-Pak and Hamad, the national anthem was played and along came the non-ending series of fun. There were many games and performances lined up for the audience, which they thoroughly enjoyed. In the end, winners were awarded certificates and so this colorful event came to an end, with many joyful memories
.
---
12th Annual Swimming Gala 2019
Like previous years, the 12th annual swimming gala was held at Cambridge Madrasa-tul-Banat (CMTB) on 3rd October 2019. Almost 50 Students from the junior and senior sections, along with college students participated in it. The CMTB's efforts to change the mindset of parents bore fruit as 35 girls from 3 to intermediate classes participated for the first time. The pool area was beautifully decorated with colorful balloons. And the enthusiasm of participants was worth seeing.

On the arrival of Chief Guest Mrs. Tania Barki, the bouquet was presented to her. Our honorable Chief Guest was a graduate of Home Economics College and was an outstanding swimmer. After the arrival of Chief Guest, the event officially started with a recitation of the Holy Quran. Laiba Khursheed of 9th B recited the Holy Surah. A Play on 'How to rescue a drowning person' was specially prepared by participants in the context of current situation of Kashmir, which the audience thoroughly appreciated. Swimming races started with the FreeStyle race that is followed by breaststroke, backstroke, underwater race, relay race, board race, balloon race, and coin race. Some results are given in the table.

Race Name

Class

Position

1

Freestyle

3rd

Boys 1. Ahmad

2. Harris

Girls 1. Rania

2.Minahil

4th

Boys 1. Naveed

2. Asjad

Girls 1. Javeria

2.Ashtalfa

5th

Girls 1. Nowera

2. Aarfa

7th

Girls 1. Khadija

2. Insha

2

Breaststroke

9th

Girls 1. Arooj

2.Fatima

3

Backstroke

5th

Boys 1. Ayyan

2. Abbas

Girls 1. Nowera

2. Jannat

5

Board Race

1st year

Girls 1. Maheen

2. Khadija

Winners were awarded certificates and prizes, given by Mrs. Tania Barki. She also shared her views about Swimming Gala, in which she praised the winners and participants. And also praised management for holding such a beautiful and successful event. She hailed the management for providing such healthy activity to students. Mrs. Tania Barki was given shield, for her honorable presence. In the end participants and guests were entertained with juices. And thus the event ended with few tears of joy who won and with new hope for others, of winning next year.
---
Report Swimming Gala 2018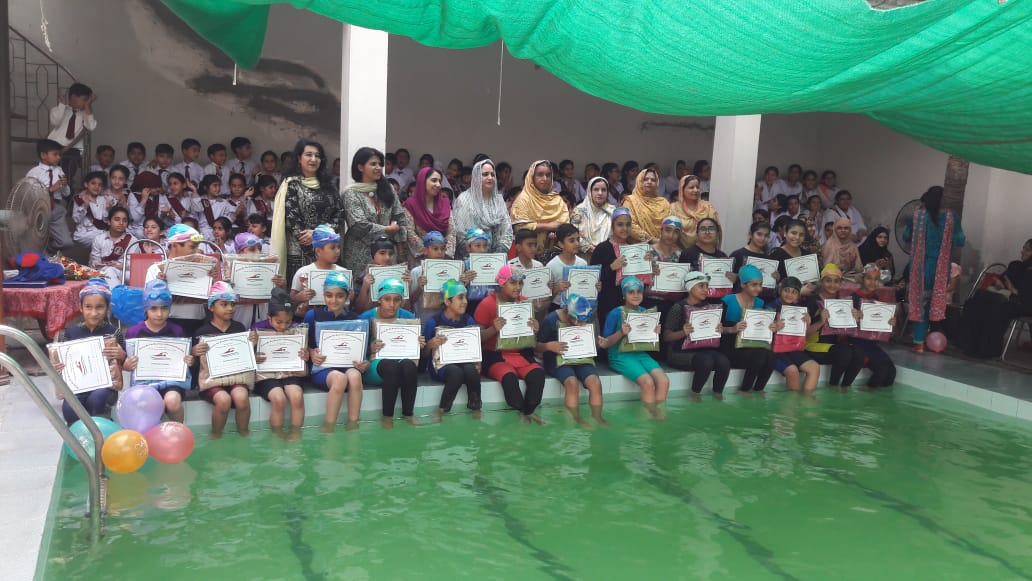 Annual Swimming Gala was held on 10th October, 2018 at Cambride Madrassat-ul-Banat, which had an objective to encourage the students to develop sportsmanship. Madam Samina Noor, Senior Headmistress Govt Madrassat-ul-Banat Junior Middle School was invited as Chief Guest. The Administrator Cambridge Madrasat-ul-Banat Madam Rakhshanda with Headmistress received the chief guest.
Competition was formally started with the recitation of the Holy Quran. There were many categories of swimming lined up for the participants like, free-style stroke, underwater, backstroke and breaststroke. Winners of these categories are: Aimen, Fatima Absar, Fatima Mustneer, Arooj Khan, Raniya khan, Javeria, Ashtalfa, Zara, Farheen, Zarmeen, Ayla, Khadija, Hibba, Hadia, Zainab, Mahnoor, Talha, Abdullah, Naveed, Hammad and Haris.
In the end Madam Samina Noor gave away the prizes and certificates among winners. Madam Rakhshanda presented a memorable shield to the chief guest. The chief guest addressed and encouraged the students and expresses her immense pleasure to be here.